Making the Chaya handpan
Chaya handpans are made with the utmost care. Our craftsmanship produces constant quality. To ensure this quality, we make no concessions during the construction process. Only the handpans we produce which really meet our requirements are given the Chaya trademark.
Each Chaya handpan is unique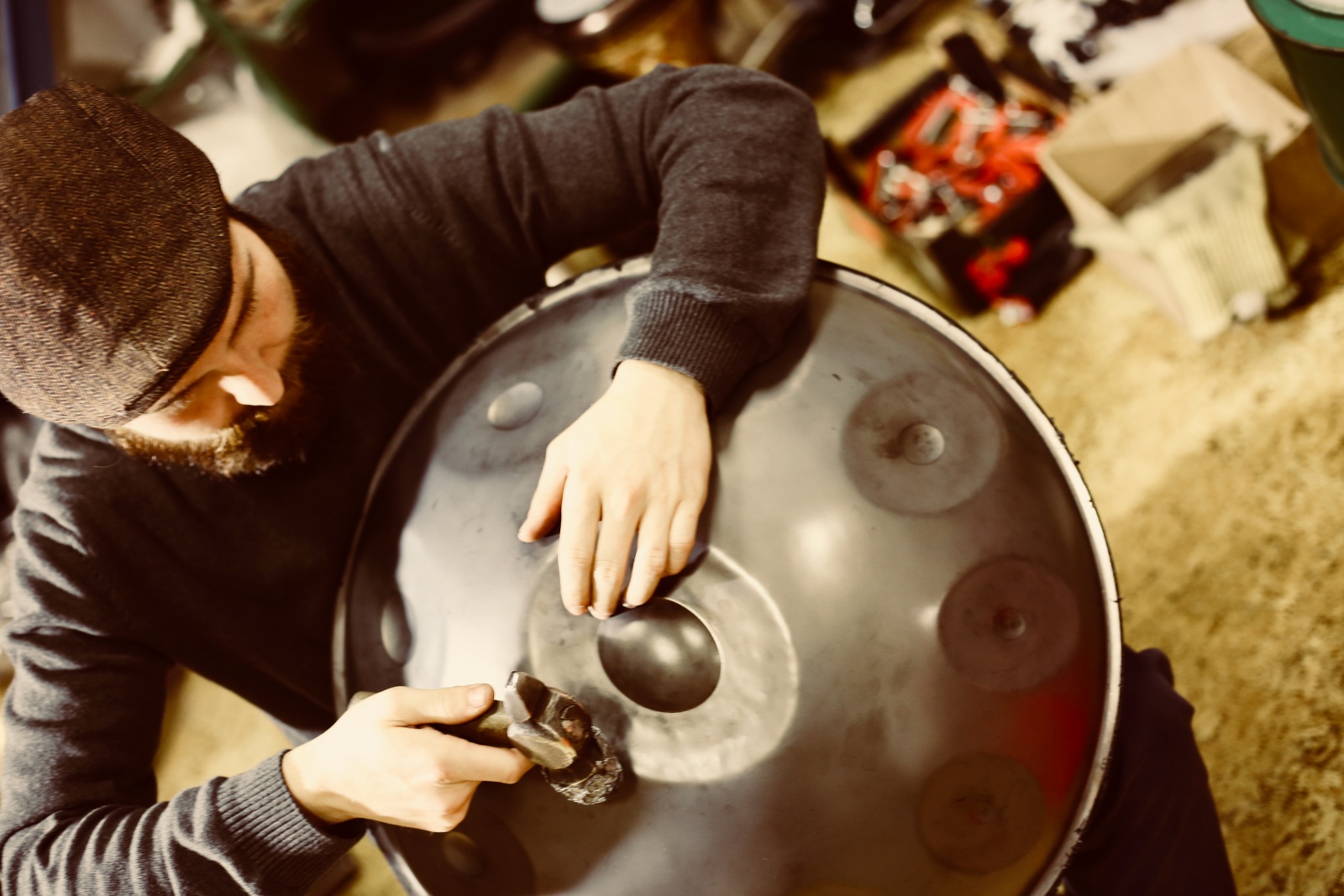 Chaya instruments stand for constant quality, but not for uniformity. Each handpan is handmade and has our full attention. Every hammer blow affects the handpan's individual character and ultimately, each instrument produces its own unique sound and resonance.
Material
The thickness and diameter of the metal used for the Chaya handpan makes them distinctive. A Chaya handpan is made of 1.25 mm-thick steel with a diameter of 53 and 59,5 cm. This difference gives Chaya its specific warm, carrying and powerful sound.
The thickness of the Chaya 1.25 mm handpan makes it exceptionally stable, very resistant to vigorous playing and ensures it will not go out of tune easily. At the same time, the instrument maintains its subtlety; you can play it with emotion.
We also supply the Chaya handpan in the traditional thickness of 1 mm with a diameter of 53 cm. Because the metal and the nitration process are slightly different, it has a different timbre. This provides even more options, and so, uniquely, we have a suitable Chaya handpan to suit everyone's taste.
Ring
We supply a special rubber ring for all Chaya handpans which you can attach or remove to subtly influence the sound and resonance. The ring also gives the instrument added protection.
Nitration
In addition to the thickness of the steel, the nitration also ensures the individuality of the Chaya drum. Our unique nitration recipe guarantees a beautiful timbre and pleasant resonance. At the same time, the thermochemical nitration process influences the shape and wear-resistance of the material, making it more resistant to vigorous playing and to rust and dirt.
Specifications
Chaya handpans (steel thickness of 1.25 mm) have an inner diameter of 53 cm and are 25 cm high. The low-scale 'B-Celtic tuning' has a diameter of 59,5 cm.
Chaya handpans with steel thickness of 1 mm have a diameter of 53 cm and are 30 cm high.
The Chaya handpans routinely come with 9 or 10 tone fields, including the bass tone in the middle. At your request, we can make multiple tones on the top or bottom of the handpan. The possibilities depend on the scale and the chosen thickness of the metal.